As an immigrant-founded and driven company that serves immigrant populations in the United States, Avantpage loves to celebrate National Immigrant Heritage Month.
Founded in 2014, Immigrant Heritage Month honors the contributions of immigrants by highlighting business leaders, celebrities, elected officials and others in June. More than 250 companies and organizations across the country collaborate to create festivities and events to engage and encourage immigrants of all ages to share their stories on multiple platforms. New this year is the "I Stand With Immigrants" campaign, which encourages Americans to unite their communities to be immigrant allies and share their stories.
As part of our Immigrant Heritage Month celebration, every Avantpage team member wrote a letter to #ToImmigrantsWithLove, which is a project by Define American and I Am An Immigrant. This letter writing campaign for immigrants and the allies who love them publicly acknowledges that we stand with immigrants no matter what.
Here are some of our letters and stories. Each letter is different. Some people decided to share their stories while others chose words of affirmation and encouragement. No matter the letter, all of our core messages are the same: We stand with immigrants and celebrate their strength.
#ToImmigrantsWithLove Avantpage:

 
Davis, CA Office
"From one immigrant to another, the right to choose where to live a healthy, happy, and safe life is a known human right that should know no boundaries. We are stronger together."

– Joanna Oseman, Account Manager
"My grandparents told me the stories of their parents coming to the United States. She told me of their struggles and accomplishments. Immigrants are a part of what makes America so culturally diverse and is a part of it's history and my own. I will stand up for you and welcome you into the United States with open arms. For my grandparents, and their parents, you are loved, you are supported, and you are welcomed with lots of love."

– Sabra Rubinstein, Marketing Manager.
"My parents came to this country in the early '80s as anti-communist refugees from Poland. They came with nothing and built a family, community, and beautiful life of love! I know your struggles and your determination. I love you and hope your path to a new life is filled with joy!"

– Nicole Spyt, office manager
#ToImmigrantsWithLove Avantpage:

 
Mexico City Office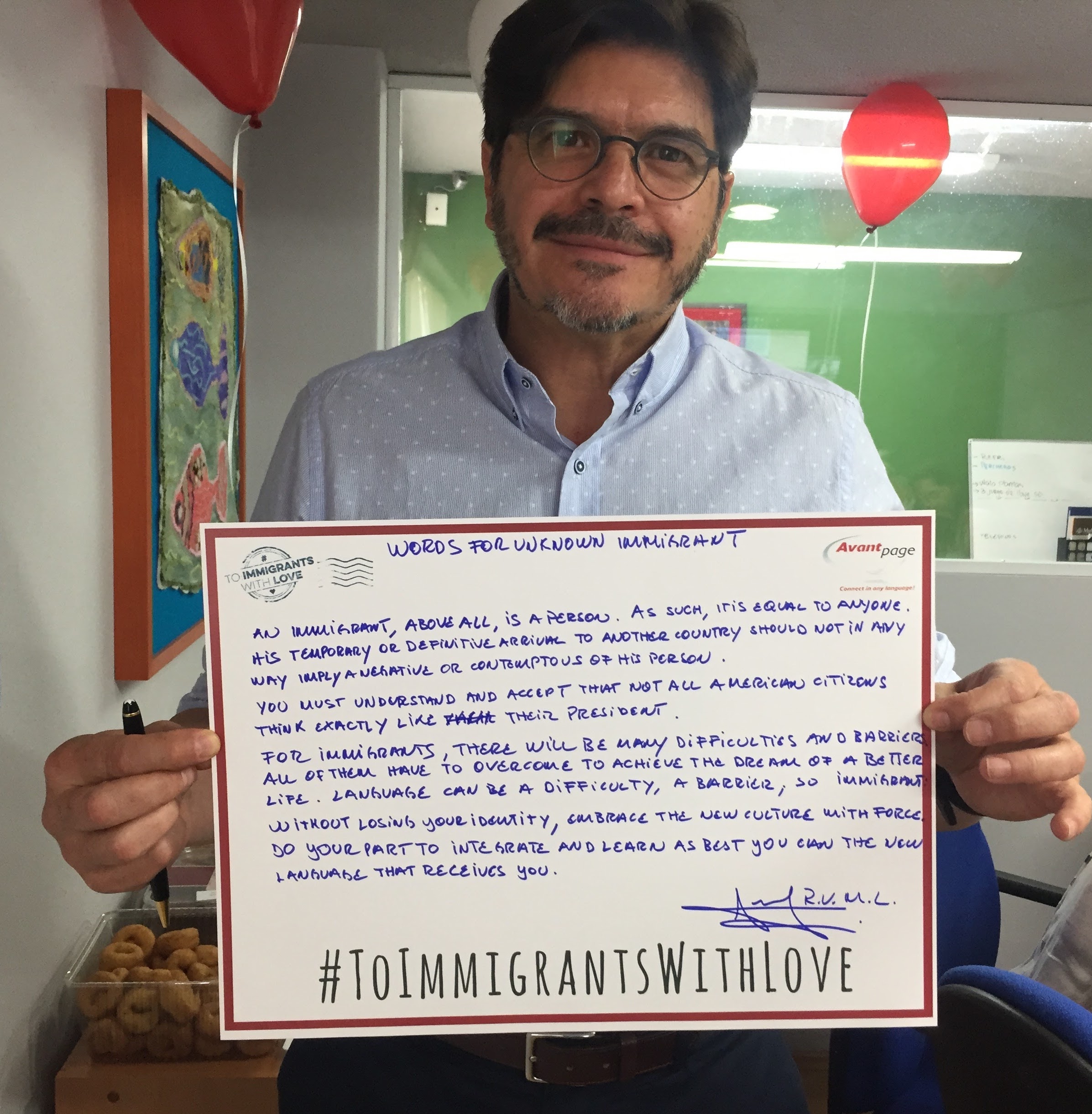 "An immigrant, above all, is a person. As such, it is equal to anyone. His temporary or definitive arrival to another country should not in any way imply a negative or contemptuous of his person. You must understand and accept that not all American citizens think exactly like their president. For immigrants, there will be many difficulties and barriers all of them have to overcome to achieve the dream of a better life. Language can be a difficulty, a barrier, so immigrants without losing your identity, embrace the new culture with force. Do your part to integrate and learn as best you can the new language that receives you."
– Rafael Rios, DTP specialist 
"We all come from everywhere and we are all equal. So go get married with someone from a different country. From Mexico and Poland with love."
– Dominika Woszczyk, Vendor Manager & Jorge Villafuerte, IT Support
"We care about your language.
We care about your culture.
We care about your rights.
We care about your opportunities.
We care about YOU!"
– Vera Hooijdonk, Operations Director
Sharing, hearing, and writing these stories can help connect Americans with immigrants in their communities. Rosa Gerra said it best:
"America is a nation of immigrants. All of us are immigrants. The only ones that are not immigrants are the Native Americans. Everybody came from somewhere else and how quickly we forget."
So take the time now to share the stories of how you or your families made America their home.
Another easy way to participate is to use the #IStandWithImmigrants hashtag or add a social media profile filter to show your support. Throughout the month there are a series of pop-up shops and events held across the country, especially in major cities like New York, Los Angeles, and San Francisco, highlights the contributions of immigrants. You can find an event near you at iamanimmigrant.com/events.
We want to hear your voice! Tweet us at @Avantpage and share your story. Show us your support by using the #IStandWithImmigrants or changing your profile photo using the filter.
To get involved with one or more of these organizations, take a moment to explore their websites.